Top 10 Marketing Trends of 2021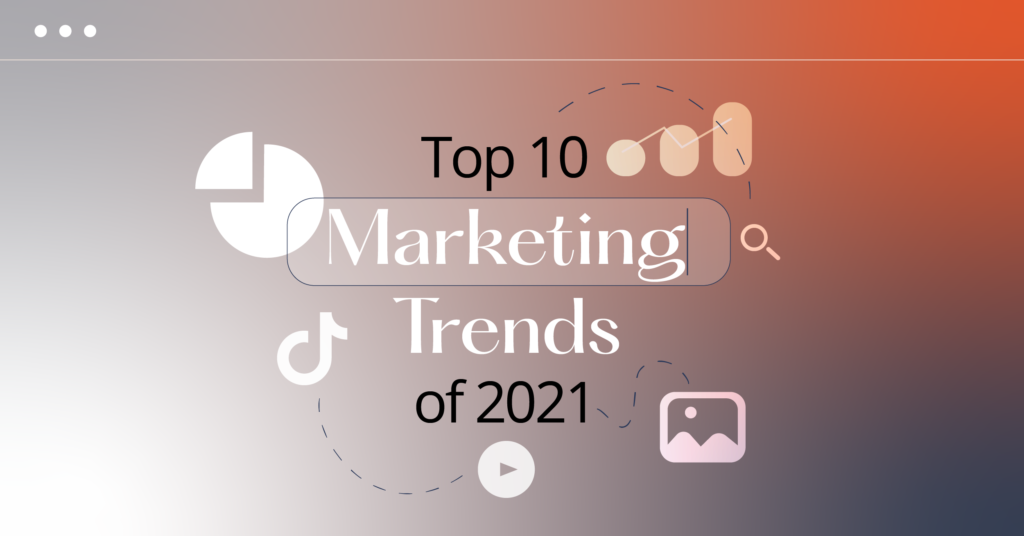 From NFTs and decentralized finance to virtual concerts inside video games and computer-generated fashion, 2021 has been a time of continued digital transformation across industries as the world adapts to our new reality. Because of the rise in digitization and the lingering psychological effects of isolation, we continue to crave connection to people, brands, and the world around us, to search for a sense of meaning and purpose, and we demand representation.
The region's top marketing trends of 2021
Let's look back on the top marketing trends that took the region by storm in 2021. From the hottest topics to the explosion of certain social platforms, we'll cover it all
TikTok
TikTok surpassed Google in 2021 making it the most popular platform in the world, according to the latest data from web security company Cloudflare. The social media app overtook the tech behemoths that ranked above it last year including Amazon, Apple, Facebook, Microsoft, and Netflix.
In September, TikTok hit 1 billion monthly active users around the world despite being banned in India, Pakistan, Bangladesh, and Indonesia. The short-form video app has blown up in the last few years because it allows creators to share authentic and creative content while connecting with a global community. Other platforms have introduced similar products to compete, including Instagram Reels, Snapchat Spotlight, and YouTube Shorts.
Real Storytelling
Storytelling continues to be key for brand marketing, but now consumers want brands that are authentic and stand for something meaningful. They want to know how you've delivered on your promises and that you've lived up to their needs and expectations. They're tired of hearing why your company is better than the competition; they want to know what you stand for and to take action.
Sustainability
The younger generation is leading the way towards a more sustainable world with the Arab Youth Council for Climate Change (AYCCC) raising awareness in the region and Greta Thunberg calling out global leaders for making empty promises and not taking action. This year, she spearheaded the youth climate protest where millions of people from nearly 100 countries participated before the Cop26 climate summit began in Glasgow.
The United Arab Emirates was the first country in the MENA region to announce its commitment to developing climate-resilient and low-carbon health systems at the UN Climate Change Conference in Glasgow (COP26) with its Net Zero 2050 strategic initiative, followed by Bahrain, Oman, and Saudi Arabia. This pledge has created a ripple effect throughout the region where brands are shifting their focus to support sustainable initiatives. More than ever, it's important for companies that make these claims to rethink operations, environmental impact, their products, and how they are being used, otherwise, they'll quickly lose credibility, especially with the younger generation
Social Engagement
Throughout the pandemic, brands relied on reaching customers and potential customers through social media. In 2021, there was a push towards a more authentic presence on social platforms that's less curated, such as real behind-the-scenes videos, honest discussions about serious topics like mental health, and connecting with people in real-time to bond, interact, and get candid feedback. Depending on the industry, this has been complemented with relevant influencers and micro-influencers to drive conversations and engage with customers
Conversational Marketing
Marketing has become increasingly conversational in 2021. Brands are investing in chatbots and social teams to give customers the immediate, personalized responses they demand. They want an instant connection that's warm, friendly, and authentic while getting the answers they're looking for quickly.
Advanced Design-Personalization
Personalization by the most important UX trend in 2021. The main objective of personalized design is to make the user feel that the content was created especially for them which dramatically increases the conversion rate, the main goal of all website owners.
Real-life to Design
In UI design, designers have felt the need to produce something fresh, breaking the uniformity of flat objects with smooth and cool gradients in favor of creating a real-life feeling with uneven textures, making elements more tangible. This technique creates a stronger sense of connection with the user. This trend towards realistic textures, grains, and contours has developed substantially in 2021.
Video and Voice Content
Because of social distancing, working from home, and the lockdowns, there's an increased need to connect with authentic content to feel a sense of closeness. Real, vulnerable, and emotionally compelling content is the best way for brands to connect with their audiences and give them the closeness they crave. The spoken word also creates that sensation of proximity. This is one of the reasons why big brands have increasingly turned to podcasts in 2021, using it as a storytelling tool (as opposed to a sales tool) to strengthen their brand image.
Search Engine Optimization (SEO)
There have been significant developments in SEO (Search Engine Optimization), helping brands rank higher in organic searches and get noticed. Instagram has rolled out keyword searches for English-speaking users so now discoverability on social media platforms isn't just tied to hashtags. (Facebook and LinkedIn do have their own SEO algorithms, and brands that want to rank organically on their search results need to optimize their content by targeting keywords.) This is a relatively big change for surfacing content. Snapchat is an anti-example of social network SEO, although TikTok is by far the most popular platform, its organic traffic doesn't come close to Instagram's.
The Social Marketplace
Social media platforms are now social marketplaces. Online selling is becoming more streamlined through social commerce with Facebook, Instagram, and even Pinterest, now allowing customers to make purchases right on the platforms they're using, making it much more convenient, and thereby increasing brands' chances of making a sale. This may be one of the most powerful social media trends in 2021, especially for retargeting campaigns, as you can show shoppable posts to followers who previously expressed intention to buy your products.
Looking forward to 2022
These are just some of the trends that have dominated the social media landscape in 2021. The common theme that runs through them, is that people want to connect with brands in a meaningful way that creates a sense of purpose. Clearly, social media has become an integral part of people's lives and daily routines, and this won't change moving forward into 2022. The biggest anticipated changes are the rise of TikTok and short-form video content, social audio will grow in popularity, and personalization will be paramount, and social commerce is a must for eCommerce businesses.
It's crucial to remember that social media is constantly changing and it's a highly competitive space. What worked before isn't guaranteed to generate the same results. So, keep up with the latest developments or consult an agency to help you share your brand's story and connect with the right audience in a meaningful way.
Want to create a deeper connection with your customers? Get in touch for a free assessment to see what your brand can do to reach your audience and inspire them to take action.