In Brands We Trust
How content can be used to gain consumers in a less than friendly climate of excess and ambiguous information.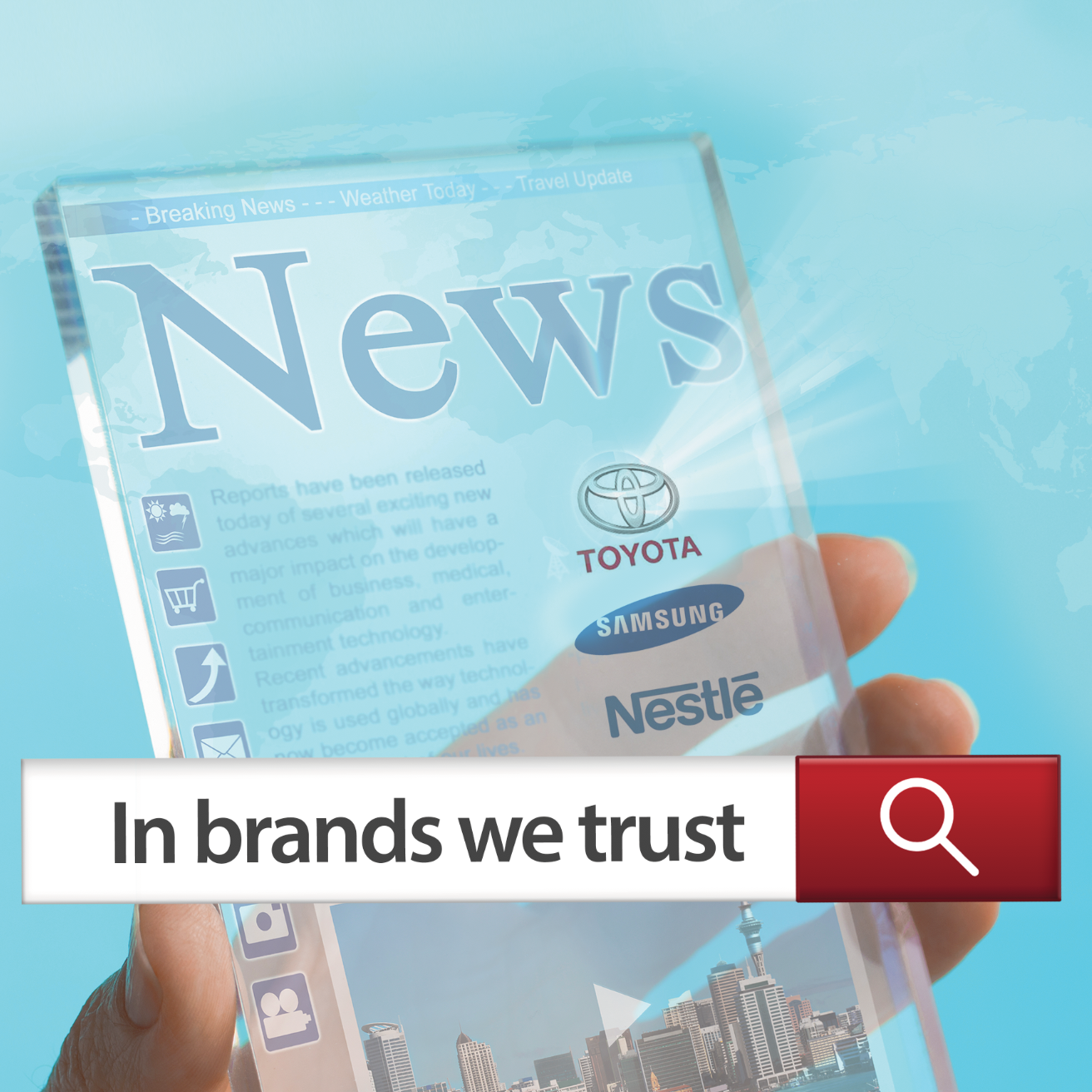 Now more than ever, consumers need information sources they can trust.
By the end of 2016, the phenomenon of fake news dominated the headlines of "real" news around the world, after it was seen as an influencing factor in arguably the most important election on earth, the US presidential election. Americans' trust in mass media is at an all-time low according to Gallup, while in the EU, trust across all media has been dropping since 2015.
A Buzzfeed report found that on Facebook, the top 20 fake news stories about the election were shared over a million times more than the top 20 real news stories.
With President Trump's angry crusade against the media consistently dominating the headlines as he labels all news outlets that criticize him as "fake news", people are even more weary and confused. Is it real or not? Who can we trust?
The proliferation of information online, and the ability of anyone to post anything, anytime, anywhere makes checking and filtering by any kind of accredited body impossible. So people have to look to leaders of industry and established authorities for guidance and advice.
As a result, now more than ever, consumers are looking for transparency and trust. They are looking for reliable and useful information that can help them make efficient purchasing decisions, streamline their lives and connect with trustworthy brands.
Back in 2000, Reader's Digest, the ever present little A5 magazine that has graced most coffee tables since the 70s, began conducting an annual Trusted Brand Survey, starting in Asia and a couple of years ago in the US. Recognising that trust is a very important factor in consumer decision making, the magazine had participants rate their most trusted brands in 40 categories based on 6 criteria; Trustworthiness & Credibility, Quality, Value, Understanding of Customer Needs, Innovation and Social Responsibility.
Great content is responsible for half those criteria.
Losing consumer trust is one of the hardest things for a brand to come back from, and Samsung is the biggest example of the moment for losing consumer trust. With the damage done by the exploding Galaxy Note 7, the electronics giant is facing a huge backlash from angry consumers and most worryingly, mistrust. In January of this year in a smart move to regain consumer trust through great content, Samsung shared an infographic to reveal the results of their investigation into what went wrong with their product.
In the past 10 years, Nestle has had to recall different products including infant formula and Maggi noodles, from different markets for issues varying from Listeria to possible ink contamination to mineral instability. In spite of this, in 2013, Nestle was named one of the world's top ten most reputable companies, with its Global CEO Paul Bulcke maintaining that "the trust of our consumers and the safety and quality of our products is our foremost priority everywhere in the world."
How do they keep their customer's trust? Transparency and accountability using social and digital media – "….full transparency in what we're doing, giving them (the customers) control to opt in and thinking about how mobile is putting a higher premium on radically simplifying the way we communicate with consumers." (Pete Blackshaw, Head of Digital and Social Media, Nestle)
After a fatal car crash in 2009 that resulted in the deaths of four people in the US due to faulty pedals in their Lexus, Toyota was facing a crisis when they had to recall 9 million vehicles in the US. Like their car, consumer trust crashed; Toyota used content on Social Media to respond to the crisis, reassure customers and rebuild its name. As a brand, it was accessible, transparent and engaged with its consumers.
Consumer trust in long standing brands such as Toyota, Nestle and Samsung is built over decades and hard to shake. How they keep that trust will be through action and content – engaging consumers, answering difficult questions and ensuring they remain transparent and an authority in their industry.
Thanks to technology, your brand can become an authority and trusted source in a lot less time through original, well-researched and engagingly written and visualised content that answers consumer questions honestly and informatively.  The most effective way to create a loyal customer base is to help your customers; providing great content is the first essential step in capturing and keeping customers.
Now that they need it more than ever, are you providing great content to captivate your customers? Are you there – at the right place and the right time to be found by your target customer?