Social Commerce
The trillion-dollar industry your business could be missing out on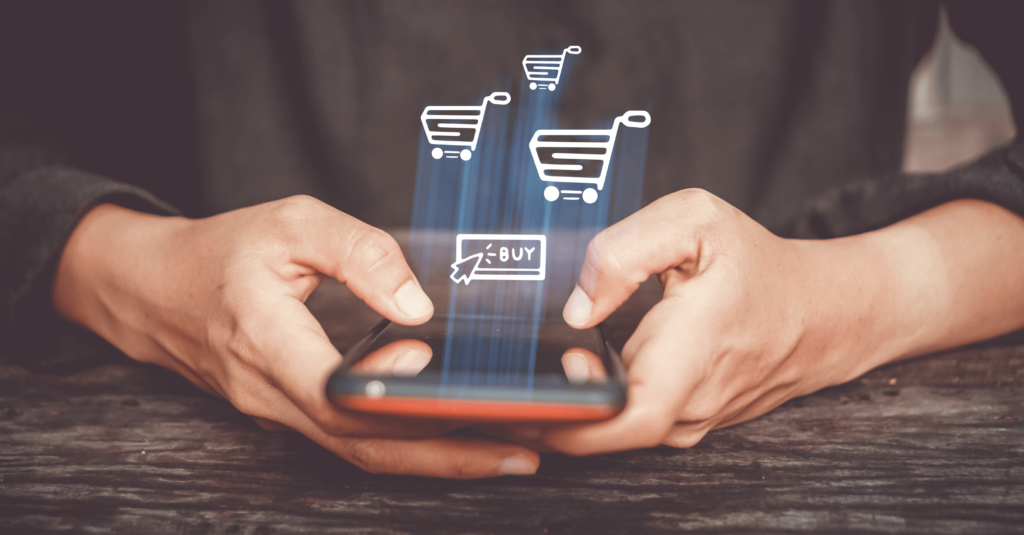 You're scrolling through Instagram and a handbag catches your eye. You flip through the carousel, browsing similar models by different designers. One handbag speaks to you, and you spend just a few seconds debating whether to buy it. You end up putting it in the basket– you weren't planning on shopping before breakfast, but this bag is so you. You get distracted by a WhatsApp message and forget about the bag completely. A few hours roll by, and you open Instagram. There it is, the coveted bag right at the top of your feed, just waiting for you. Do you tap the buy button?
Read more: Why Brand Experiences are More Important Than Ever
The rise of social commerce
The way we shop is changing dramatically. Because the global pandemic has accelerated the rise of digital transformation, eCommerce and social commerce are creating a paradigm shift. People find it much more convenient to shop from the comfort of their homes and the accessibility of their social platforms, plus, online shopping is faster, easier, and more convenient.
98.19% of the United Arab Emirates' population have active social accounts with 2 hours and 55 minutes being the average amount of time spent on social media per day. * 79.25% of the Kingdom of Saudi Arabia's population are active social media users and they spend an average of 3 hours and 6 minutes on their favourite platforms per day. ** Since social media is part of their daily routine and where they spend most of their time, these platforms are the perfect place for brands to sell and promote their products.
A trillion-dollar industry that makes selling easier than ever
Globally, shopping on social media platforms (social commerce) is expected to reach $1.2 Trillion by 2025. At the end of 2021, the industry reached $492 billion, but it's anticipated to grow three times as fast as traditional eCommerce with growth being driven primarily by Gen Z and Millennials. Just under two-thirds (64%) of social media users surveyed said they made a social commerce purchase in the last year, nearly 2 billion social buyers globally.
Social platforms are making it easier than ever for brands to sell their products and have streamlined the User Experience so customers don't even need to leave the app to make a purchase. Retargeting someone who's spent a bit more time looking at a certain product is also an incredibly effective way for the brand to stay top of mind and increase the person's likelihood of purchasing the product. This is great for small businesses and entrepreneurs because it gives them the opportunity to reach massive markets that were simply not available to them before. Instead of a handful of big retailers and brands selling to mass markets, we're now seeing millions of individuals and smaller businesses selling to one another within the vast social commerce ecosystem.
Read: TikTok vs Snapchat for business
Social marketplace pros and cons
Not all platforms are created equal when it comes to social commerce. Meta's Instagram and Facebook are leading the way when it comes to important features like in-app checkout, but TikTok and Pinterest are leveraging their strength in product discovery. One important thing to note is that customers have little tolerance for digital inconvenience; if the user journey requires too much effort, customers drop out. Brands that offer frictionless and seamless experiences across all platforms will undoubtedly sell the most products.  
Instagram & Facebook
TikTok
Pinterest
ٍShopping Section
Separate 'Shop' tab in-app
Brands can establish their own virtual storefronts
No dedicated shop section, but brands can add a 'Shopping' tab in their profile 
Separate 'Shop' tab in-app, on search, and no retailer profiles
Brands can build virtual storefronts
Product Discovery
Brands and influencers can create shoppable feed posts, shoppable tags, Stories, Reels, and livestreams
Brands and influencers can link to product pages in post and livestreams
Shoppable product pins available to brands and creators  Recently launched Pinterest TV (live shopping featuring creators)
Customer Journey
Customers can browse and discover productsIn-app checkout options available
Customers can browse in-app, but must navigate to brands' websites to check out
Product browsing and discovery available in-app, but native checkout unavailable
Analytics and your audience
All the above-mentioned platforms have built-in analytics for business accounts that tell brands all kinds of useful information like the reach of their posts, the posts' engagement, the different regions your target audience is in, when are the peak times your target audience is online, how your competitors are performing, the growth of your brand following, and even how often your brand is mentioned.
It can be challenging to get started on social media marketplaces. When it comes to growing your business, the primary focus should be to work on building relationships with customers rather than just promoting products. Growing engagement and nurturing direct-to-customer communications is a must, whether it's replying to messages and comments or even engaging with other channels promoting your products or brand. Collaborating with micro-influencers to create authentic content also helps connect your brand with your audience.
Choose the social marketplace that's best for your brand
It's important to choose the best social marketplace (social commerce) based on the needs of your online business and the segments you wish to reach. Be sure to consider the platform's ability to integrate with existing systems, billing for digital marketplaces, catalog inventory, clear product roadmaps, easy onboarding, and accessible admin tools, to name a few.
If you need help figuring out the best social marketplace for your business, get in touch with us for a free assessment based on your business objectives.
References:
*https://www.globalmediainsight.com/blog/uae-social-media-statistics/
**https://www.globalmediainsight.com/blog/saudi-arabia-social-media-statistics/
Read more:
Top 10 Marketing Trends of 2021
How social media has shifted luxury branding