Video is Still the King!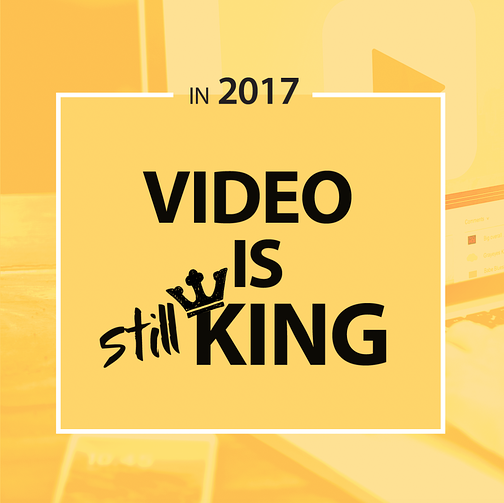 At this point, it's pretty obvious, but for the sake of making a point, let's just say it – video is the go-to choice for marketers these days.
Videos are the top choice for marketers
Back in 2013, 87% of marketers used video for content marketing (source: singlegrain.com). That was 3 years ago. A lot of things have changed in that time, but video is still the top choice for marketers.
Today, social media sharing is how we determine popularity. Sure, the number of likes or favourites you get make a difference, but shares take your product to a wider audience every single time, like some sort of highly exaggerated pyramid scheme – you share to your 300 friends, each of them shares to their 300 friends, and a few levels on, you already have a few thousand people that your post has reached.
Videos increase engagement
So where does video come in? The short of it is – audiences are 10x more likely to engage with video content than text-only blogs (source: Eric Hinson).
The brain is a funny thing. Sometimes, it feels like we can read something over and over, and still it doesn't register.
Visuals help you remember.
The human brain processes visuals 60,000 times faster than text (source: 3M Corporation). (VISUAL) Video not only helps you remember, but it helps you connect. People connect to the company, connect to your brand, and tend to trust your brand more when they see your video.
Videos tell stories.
When stories are told right, they have the power to stick for a long time. Statistics show that stories are 22 times more memorable than facts alone (source: Jennifer Aaker, Stanford).
Are you still hesitating to indulge in video marketing? After all, it can be quite a dent in the wallet. However, social media has made things easier on everyone.
Each and every social platform has video capacity – from Facebook to Instagram to Snapchat and Twitter. Each platform offers a unique take on video sharing, which can be used to your advantage. In the following weeks, we will look at how each platform can be used to the fullest for video marketing.
The statistics don't lie. They all say that Video is King. They say that Video beats any other form of content marketing in this day and age. We can also throw a whole bunch of numbers at you and show you that Video has not only arrived and is here to stay, but that it will gain even more popularity and be even bigger in 2017.
Just think about how you feel after you watch a video. That should be enough to nudge you into using video as one of the main components of your marketing strategy.