Blog: TikTok vs Snapchat for business
Why TikTok or Snapchat?
In the GCC, Gen Z and Millennials are highly influential, they have higher purchasing power than other regions, and they're the ones who affect change. And guess where they're spending most of their free time? TikTok and Snapchat. In fact, 80% of Saudi Arabia's population have TikTok and 71% have Snapchat! Although these channels might seem superficial or silly to some, don't underestimate them or your brand might miss out on the potential of this massive market.
But the big question is: What's the difference between TikTok and Snapchat and how can brands maximise these platforms to engage with these unique audiences and achieve their business goals?
What's the difference: TikTok vs Snapchat?
First off, they're completely different.
TikTok is where you watch and share short, quirky videos. It gives people all the tools they need to express themselves in the most bizarre and creative ways. Loaded with impressive editing tools, filter effects, and a music library with millions of songs, people are inspired to create all kinds of content from dance and lip-synching videos to impressive camera hacks and pranks. There are also tons of Hashtag Challenges to get people creating content. There's even a 'For You' page with discovery feed so you can browse videos based on ones you've liked.
Snapchat was originally all about urgency and privacy. It was designed as a place where people could share photos, videos, and messages with their friends safely, knowing the content will disappear after 24 hours (or after viewed)—never to be seen again! This creates a sense of FOMO (Fear Of Missing Out) that ensures Snapchat users are always on. Users can flip through bite-sized content from brands on stories, see the world through Augmented Reality filters and see themselves differently with lenses. Like TikTok, Snapchat also has a 'Discover' section featuring celebrity videos and branded content that disappears after 24 hours.
In effort to compete with TikTok, Snapchat has recently launched 'Spotlight', a TikTok-inspired video feed that gives users a chance to discover trending videos from around the world, see their content go viral, and compete to win millions of dollars every month. * They've also recently partnered with several recording labels and the TV network NBC Universal to offer users a wider audio library featuring more music, as well as snippets from shows and movies.

*Current eligible countries:
Algeria, Argentina, Australia, Austria, Bahrain, Belgium, Brazil, Canada, Denmark, Egypt, Finland, France, Germany, India, Indonesia, Ireland, Italy, Jordan, Kuwait, Libya, Mexico, Morocco, Netherlands, New Zealand, Nigeria, Norway, Oman, Palestine, Philippines, Qatar, Saudi Arabia, Singapore, South Korea, Sweden, UAE, United Kingdom, United States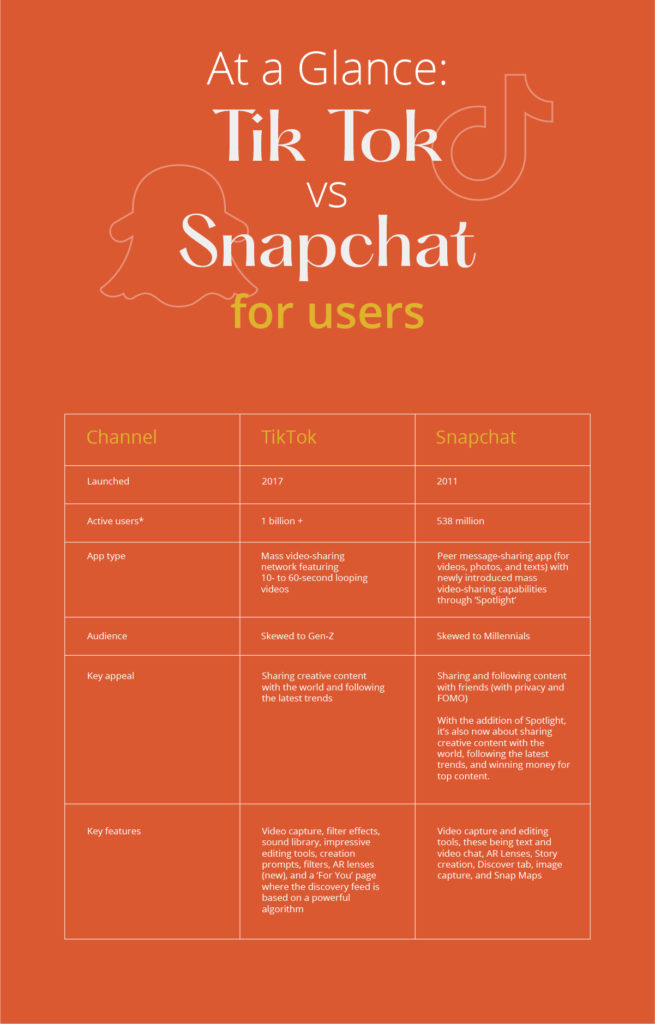 *As of November 2021
How big is TikTok vs Snapchat in the GCC?
Nearly 80% of Saudi Arabia's population aged 18 and above have TikTok. It's significantly more popular than Facebook, Snapchat, and even Instagram. TikTok also has a strong user base in Kuwait and the UAE, where the platform's ad products have the potential to reach more than two-thirds of the adult population.
TikTok's reach is pervasive across the region, making it a critical social platform for brands to consider when planning their marketing strategies. It's also important to reach its audience with video content that feels organic, spontaneous, engaging, and out-of-the-box. The potential TikTok offers is far too great for brands to overlook this channel.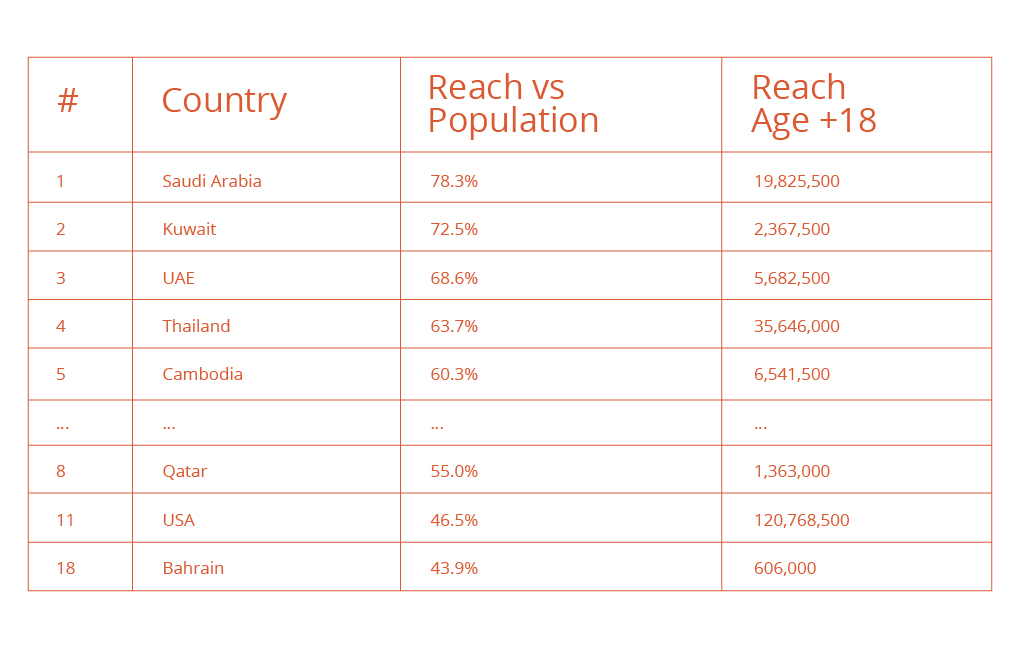 Nearly 71% of Saudi Arabia's population above the age of 13 have Snapchat. It's also quite popular in Kuwait and Bahrain where it reaches over half of the 13+ population and over one-third of the 13+ population in Oman and the UAE.
Because Snapchat's reach is so significant in the region, it's another key social platform that brands tend to overlook. Although the platform is always evolving, the branded content on Snapchat as well as the tools available to brands are vastly different from TikTok's. To reach this audience in an engaging and meaningful way, it's important to create content that connects with Snapchat users and feels authentic to the channel.
October 2021Countries with the largest Snapchat advertising audiences compared to population aged 13+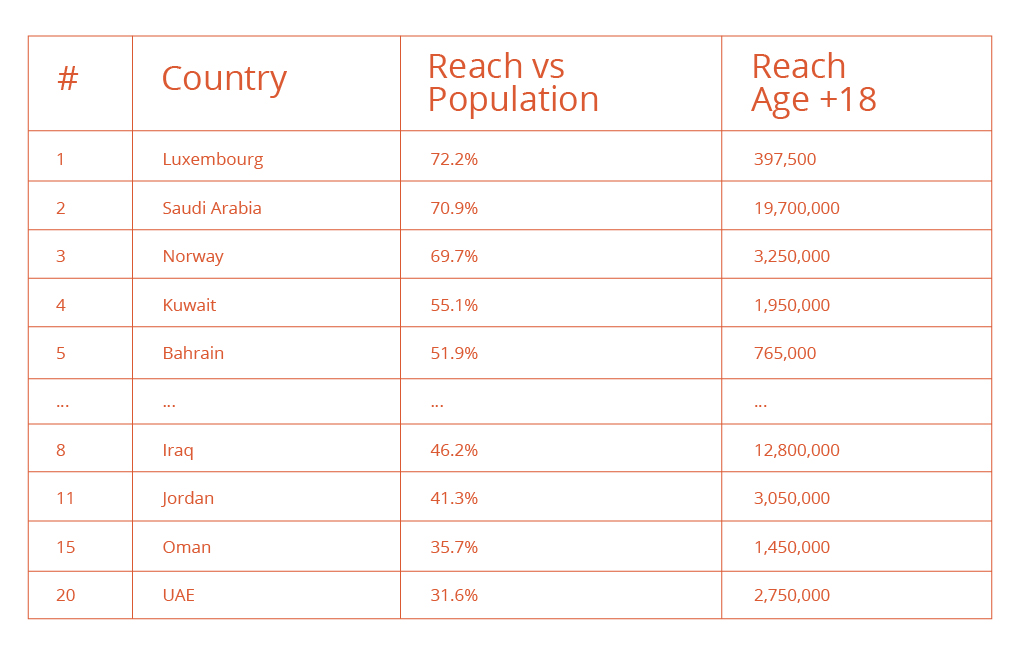 What best practices from brands in the region?
Brands in the region are connecting with their audiences on TikTok and Snapchat in entertaining, outlandish, and interactive ways, while leveraging the popularity of influencers.
Pizza Hut Brand Video:
Pizza Hut User Video:
@PizzaHutUAE created a hashtag challenge inviting users to participate in a dance promoting their Super Limo Pizza for a chance to win prizes. The video featured local influencer Tarek Al Harbi and TikTok influencers such as Mad Shadz stepped up to the challenge, spreading awareness through his massive following.
The dance was fun, simple, strange, and easy for users to recreate and put their own creative spin on it.
Caption:
Join the challenge and do the Super LIMO dance for a chance to WIN!
#SuperLimoDanceOff #PizzaHutUAE #superlimo

Deliveroo partnered with Snapchat to drive awareness of their "On Time Tastes Better" campaign in a fun and engaging way. Deliveroo combined Snap Ads, Commercials and AR to help them drive reach and awareness. Deliveroo used AR to create a gamified experience where users can beat the clock and deliver 10 meals on time guaranteed, through a playful and engaging Lens execution. The Lens also included an "Order Now" CTA button which delivered a strong swipe up rate.
Which is better for Inbound Marketing? TikTok vs Snapchat
If your budget is limited, TikTok is more cost-effective. On TikTok, users can more easily search for your company page, follow you, or search for your content than on Snapchat. You can also optimize videos with hashtags and keywords and create Hashtag Challenges to encourage users to engage with your brand. If you're looking for website traffic and don't have time to experiment with TikTok, Snapchat might be a better option.
On Snapchat, brands mainly thrive on the Discover page. Here you can reach users with Stories (a series of 3-20 images or video ads) or Snap Ads that allow you to tell users a short 10-second visual story about your brand and has a swipe-up feature that will take users directly to your webpage. Creating an account for your brand on Snapchat is not beneficial, because users will have to add you as a friend to see your content. Brands can also create engaging Augmented Reality filters and lenses that they can play with and share with friends, collection ads, and non-skippable commercials that can be anywhere from 6-seconds to 3-minutes.
Each platform has its own pros and cons for content marketers so the one that's best for your brand depends on the target audience you want to reach, your budget, and your business objectives.
Whichever channel you choose, content creation comes first
Fresh, engaging, and highly creative content is key. It's important that whatever product or service you're promoting is first and foremost entertaining and doesn't look like an ad. Branded content on these platforms needs to be fun, spontaneous, and surprising. Emotional appeal through the right combination of audio and video content are usually the most impactful ways to capture the attention of these audiences.
With such incredibly widespread reach in the MENA region and especially in the GCC, isn't it time your brand considered TikTok or Snapchat? Be sure to factor content creation into your marketing budget and social content calendar to reach these massive audiences. Don't let your brand miss out on the chance to connect with these outrageously popular channels that are taking the region by storm!
Want to connect with customers on TikTok or Snapchat? Need help creating the right content for your brand? Get in touch for a free assessment to see what works best for your brand.