Create More With Linkedin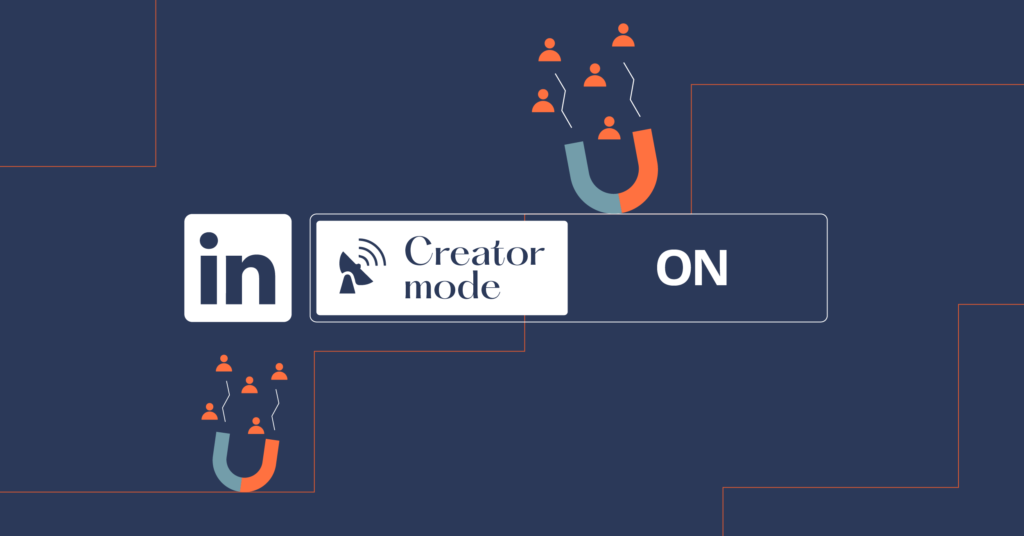 Imagine a social platform where everyone puts their best foot forward, with virtually no misinformation, and where you choose what type of content you see; where your brand can build a following of people who are motivated to learn, looking for meaningful conversations and connections, and are ready to get down to business. 
This is the utopian business platform of LinkedIn, and it gets even better…
LinkedIn started off as an employment platform for job seekers, but now it's all about content. People go to LinkedIn for the latest industry news, to learn new skills, to keep up with trends, and to follow thought leaders. They're hungry for rich, juicy content from esteemed brands, businesses, and professionals. It's the perfect place to gain a following while creating awareness about your offerings.
Creator Mode LinkedIn
Creator Mode is a new profile setting on LinkedIn that lets you create more content and share it publicly. People can find your content in the search feature and by browsing through the Discovery section, giving your content organic discoverability outside your network. Creator Mode also gives you access to creator tools like LinkedIn Live Video and LinkedIn Newsletter. LinkedIn can even feature you as a suggested creator, encouraging even more people to follow you.
Formats to Consider on LinkedIn
Discover the latest developments on LinkedIn's that help brands and businesses create more content and gain more followers.
Make an Impact with Video
Videos get 1,200% more shares than copy and image content combined! It's overwhelmingly the preferred form of content as TikTok, YouTube, and Instagram have proved. Taking the cue from these social giants, LinkedIn has made it easier than ever to create video content.
Video Profile
Why blend in with a static profile picture when you can stand out with a 30-second video? Simply by tapping 'add cover story', you can introduce your brand in a video that gives a glimpse into the personality, background, values, and purpose of your brand. It's a much more effective way to make a long-lasting impression.
Tutorial Videos
Just last year, LinkedIn bought a short-form tutorial company called Jumprope. It's expected to be the perfect tool to create snappy How-To videos. Stay tuned!
Read more: Visual Trends of 2022
Connect with Live Streaming
Live streaming is one of the most effective ways for businesses to connect with their consumers. People love the spontaneous, unfiltered, and 'face to face' feel it creates.
Boston Consulting Group's (BCG) management team live-streamed advice for graduates entering the workforce. This gave BCG a chance to demonstrate their experience, attract new talent, and promote brand awareness.
Lead the Conversation with Podcasts
LinkedIn has recently launched the LinkedIn Podcast Network featuring shows with topics that are hot on the platform, like technology, recruitment, women in business, and more. Anyone can apply to feature their podcast on the LinkedIn Podcast Network.
Sephora recently launched a lipstick line called #Lipstories and launched a campaign called Lipstick for Real Life. As part of the campaign, they launched a podcast with 20-minute stories from everyday life featuring influential female founders, creators, and thought leaders.
LinkedIn Continues to Level Up
LinkedIn has been around for a while, it's no spring chicken. Adding all these supped-up new features feels like putting a brand-new motor and sound system in a car that's a bit of a fixer-upper. LinkedIn still feels a bit clunky, but it's arguably one of the best platforms and it continues to get better. And thanks to the Great Resignation, it's attracting more people than ever (from 690 million members in 2020 to 810 million members today), making it the prime place to connect with professional audiences and grow your following.
Want to know best practices for creating your own video for LinkedIn? Message us and we'll share some secrets to help you get started.
ReadMore: